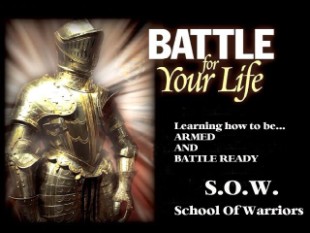 Ephesians 6:10-14 (King James Version)
10Finally, my brethren, be strong in the Lord, and in the power of his might.
11Put on the whole armour of God, that ye may be able to stand against the wiles of the devil.
12For we wrestle not against flesh and blood, but against principalities, against powers, against the rulers of the darkness of this world, against spiritual wickedness in high places.
13Wherefore take unto you the whole armour of God, that ye may be able to withstand in the evil day, and having done all, to stand.
14Stand therefore, having your loins girt about with truth, and having on the breastplate of righteousness;
'Lets Study This Passage'
Ephesians 6:10
10. From this point on, determine to develop your strength in the Lord. In addition, learn to rely on His might to the place where it actually becomes you power.

THIS POINT ? "From henceforth"

Paul is letting the Church at Ephesus know that our warfare is with Satan and God is calling us to 'ACTIVE DUTY'.

Paul mentions two devotional requirements here in this passage.

1. "Develope your Strength"

You do this by learning to trust Jesus more and more and depend on His Word.

2. Learn to rely on "His Might".

You do this by becoming filled with the Holy Spirit to the point of doing things in His strength and enjoy the Spirits convicting power as you speak to lost souls.

11. In addition, arm yourselves with every spiritual weapon in God's arsenal, so that you may be able to encounter and survive the cunning assaults and stratagems of the devil.

DEVIL ? "The enemy of all Christians". (Even all mankind)

Some people don't believe in a real Satan. They are blind to his hold on the modern church and to the devastation of Christian lives.
Paul respected the power of the devil. (Paid attention, was alert to)
Until we learn how to use our spiritual weapons against him, we remain his easy victims.
This warfare is not against sin and temptations, but against a person, the tempter!
Satan is the supernatural god of this earth and he is extremely clever with instant access to our minds.
Prayer and Bible study are futile now.
They are 'Godward' and 'Devotional'.
Action toward Satan is needed. This is to be action that is vicious and destructive. Inflicting great damage as we use God's weapons in Jesus' Name.
This is the call to the military side of the Christian life and it is not nice.

We really fight against the person, Satan!

12. Our fight is not with flesh and blood people, or anything human and physical. We're struggling with an unseen empire of highly organized satanic beings. Arrayed against us in a kingdom of evil rulers who control the darkness of this world. There are dignitaries in command of entire armies of evil spirits who cannot be perceived by our senses since they operate in the spirit-world.

SPIRIT-WORLD ?

Huge satanic forces move against the saints.

They are unseen, occupying a sphere which corresponds to their nature.

Just because you can't see them with the natural eye, doesn't mean that they are not real.

Therefore not being able to see them makes earthly weapons useless.

Since they are not physical they do not attack us physically.

The results of their attacks can be physical, such as sickness. But they are not physical.

The battleground is in the spirit, that is in the realm of our thought-life and suggestion.

Consequently the weapons we must use against them are all mental, such as Paul list below.

13. Therfore equip youselves with all the available armor of God, right now! The day approaches when you will stand toe to toe with your enemy, and when it is all over, you want to be found still on your feet.

EQUIP ? Paul here, commands the use of arms against Satan.

There is no automatic defense.

Not even. "Greater is He that is within you than he that is in the world." (1 John 4:4)

Why ?

Jesus' indewlling presence is a RESOURCE, not a victory.

It is because of His presence we dare to fight.

What is the coming day ?

It is a crisis to face Satan head on for the first time and put James 4:7 to the test.
Salvation is not an issue here, You may face many defeats before you finally learn how to use your weapons in the power of the Spirit.
It is urgent ot see that wer are under orders to prepare ourselves and gain skill in dealing with the devil.
To be more specific as to the nature of our weapons!
14. In holding your ground, use truth as your loin-belt and righteousness as your breastplate.

15. Preparation in the Gospel of peace becomes your war-sandals.

16. Your faith shield is most important for it quenches the fire-tipped arrows of your wicked enemy.

17. Your salvation experience, which brings an awareness of Jesus' indwelling presence, can serve as the helmet and God's word is your Spirit-anointed Sword.

WEAPONS ?

'Arm yourselves'

'Sword'

18. Of course you face Satan in a prayerful attitude, knowing that resisting him is impossible apart from God's strength. Stay alert. Even as you watch every situation that developes around you, keep in constant touch with Him (God). Be equally persistent when it comes to asking God in behalf of His people.

PRAYERFUL ?
Means: To have a designated time to pray daily. Don't stop praying daily.